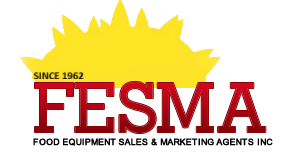 Empire Bakery Equipment of Hicksville, NY is pleased to announce the appointment of Food Equipment Sales & Marketing Agents, Inc., (FESMA), of Largo, FL as their Sales & Marketing Agency for Florida, MAFSI 13.
FESMA, incorporated in 1962, is currently managed by industry veteran William Hooper. It is the oldest operating independent representative organization in the state of Florida. FESMA is built on a strong and solid foundation of credibility. They offer a well-balanced approach to Florida's expanding markets by maintaining an in-depth focus on the following key segments – schools, consultants, chains, dealers, and The Department of Corrections. FESMA has evolved into an equipment only firm in lieu of the more traditional portfolio of tabletop supplies, furniture, and accessories allowing them to bring a higher level of expertise to their customers and manufacturing partners alike. With 4 locations across Florida, FESMA is able to provide outstanding service with a "personalized touch" while catering to clientele of all sizes.
Established in 1977, Empire Bakery Equipment is a privately-owned company providing equipment and systems to the baking and foodservice industries. Our offerings include a complete range of commercial bakery ovens, spiral arm mixers, dough processing equipment, cookie depositing systems and more. Empire's spacious 15,000 square foot facility is home to our warehouse, business support operations and on-site test bakery. We maintain a large inventory of parts on-hand, as well as an expansive network of installation and service agencies throughout the U.S. We remain committed to providing consistent, high quality products and unsurpassed customer support.
Through this new and exciting synergistic partnership, FESMA and Empire Bakery Equipment stand ready to provide an even higher level of quality and support to the Florida area. Together, our customers' success remains our most important goal!
For further information please contact:
Mr. Bill Hooper
Food Equipment Sales & Marketing Agents, Inc.
512 First Avenue S.W.
Largo, FL 33770
(800) 799-9597 – Office
Mr. James M. Markee
Foodservice Bakery Director
Empire Bakery Equipment
1C Enterprise Place
Hicksville, NY 11801
(516) 681-1500, ext 108 – Office