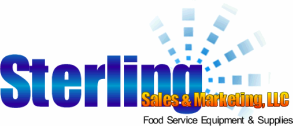 Empire Bakery Equipment of Hicksville, NY is pleased to announce the appointment of Sterling Sales & Marketing of Covington, LA as their Sales & Marketing Agency for Arkansas, Louisiana, Mississippi, and Western Tennessee.
Sterling Sales & Marketing, LLC, is an independent sales agency serving the Food Service Equipment and Supply markets in Arkansas, Louisiana, Mississippi, and Western Tennessee. From specification to installation, Sterling Sales & Marketing delivers the value their customers deserve. Their staff has over 50 years of combined experience in professional food service equipment. Whether you're building a new kitchen or bakery, remodeling an existing facility, or managing a current operation that needs some tweaking, Sterling Sales & Marketing's equipment lines and know-how offers you a distinct advantage with durability, innovation, and environmentally sound solutions.
Established in 1977, Empire Bakery Equipment is a privately-owned company providing equipment and systems to the baking and foodservice industries. Our offerings include a complete range of commercial bakery ovens, spiral arm mixers, dough processing equipment, cookie depositing systems and more. Empire's spacious 15,000 square foot facility is home to our warehouse, business support operations and on-site test bakery. We maintain a large inventory of parts on-hand, as well as an expansive network of installation and service agencies throughout the U.S. We remain committed to providing consistent, high quality products and unsurpassed customer support.
Through this new and exciting synergistic partnership, Sterling Sales & Marketing and Empire Bakery Equipment stand ready to provide an even higher level of quality and support to the South Central U.S. region. Together, our customers' success remains our most important goal!
For further information please contact:
Mr. Charles Taylor
Principal
236 Stephanie Lane
Covington, LA 70435
(985) 892-5611 – Office
(985) 892-5409 – Fax
Mr. James M. Markee
Foodservice Bakery Director
Empire Bakery Equipment
1C Enterprise Place
Hicksville, NY 11801
(516) 681-1500, ext 108 – Office