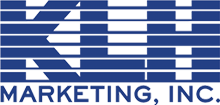 Empire Bakery Equipment of Hicksville, NY is pleased to announce the appointment of KLH Marketing, Inc. of Anaheim, CA as their Sales & Marketing Agency for Southern California and the San Francisco Metro regions, MAFSI 22 & 24.
Founded in 1989, KLH Marketing Inc. focuses on providing their customers with premier foodservice equipment and support. With more than 100 years of foodservice experience combined, principals Dave Kuelpman, Walt Luchinger, Nick Butler and Chris Mazzilli have proven themselves to be leaders in the food equipment market in California, southern Nevada, and Hawaii. KLH's 16,000 square foot facility in Anaheim, CA boasts an in-house test kitchen and training facility complete with corporate chef. Their 8,000 square foot warehouse provides ample room for inventory, while additional remote sales offices located in Hawaii, Simi Valley, Las Vegas, and San Diego provide additional support. KLH Marketing strives to provide steady support through on-site sales and consulting service, in-house quotations, customer service, local warehousing, training and equipment testing.
Established in 1977, Empire Bakery Equipment is a privately-owned company providing equipment and systems to the baking and foodservice industries. Our offerings include a complete range of commercial bakery ovens, spiral arm mixers, dough processing equipment, cookie depositing systems and more. Empire's spacious 15,000 square foot facility is home to our warehouse, business support operations and on-site test bakery. We maintain a large inventory of parts on-hand, as well as an expansive network of installation and service agencies throughout the U.S. We remain committed to providing consistent, high quality products and unsurpassed customer support.
Through this new and exciting synergistic partnership, KLH Marketing, Inc. and Empire Bakery Equipment stand ready to provide an even higher level of quality and support to California and its surrounding areas. Together, our customers' success remains our most important goal!
For further information please contact:
Mr. Dave Kuelpman, Mr. Walt Luchinger,
Mr. Nick Butler and Mr. Chris Mazzilli
KLH Marketing, Inc.
2120 East Winston Road
Anaheim, CA 92806
(714) 999-0100 – Office
Mr. James M. Markee
Foodservice Bakery Director
Empire Bakery Equipment
1C Enterprise Place
Hicksville, NY 11801
(516) 681-1500, ext 108 – Office